❤ OH MON PARIS ❤
One Day Guide to budget Paris
Magic heart of France comes in glitter and with price; Yes, you can enjoy your croissant in front of Eiffel Tower and see many people wearing beauret; also you will be surrounded by Parisian classical streets, flowers and music… like in Romance…. or maybe a bit too crowded.
Arriving at Charles De Gaulle airport is almost inevitable part of your Parisian journey. With no French handy, you can get lost. Do not worry, although the airport is very massive, head straight to RER trains and get your one way ticket in the machine (12 euros one way). It will get you to the centre of Paris. I advise not to get off on the central stations as Paris is the most famous city for travellers and there would be lots of people. For a big city, it definitely lucks elevators, so be ready to pump your arms muscles with the luggage ;)
My morning have started at Monmantre Hill, where many artists presents their paintings on the hill with a view of Paris. And where right on the top, you will spot the most beautiful cathedral in France - Sacre Coeur (its bright and positive white colour will make you smile).
*Café des Deux Moulins*
I am a big fan of Amelie, and that's where you can visit the movie set - still active cafeteria where you can sip on cappuccino.
Since breakfast (Croissant, jam toast, coffee and juice) costs 20 euros in Paris, I stocked up on healthy salads in Pret A Manger (7 euros per salad) and enjoyed my lunch at the hill with a 1-class view.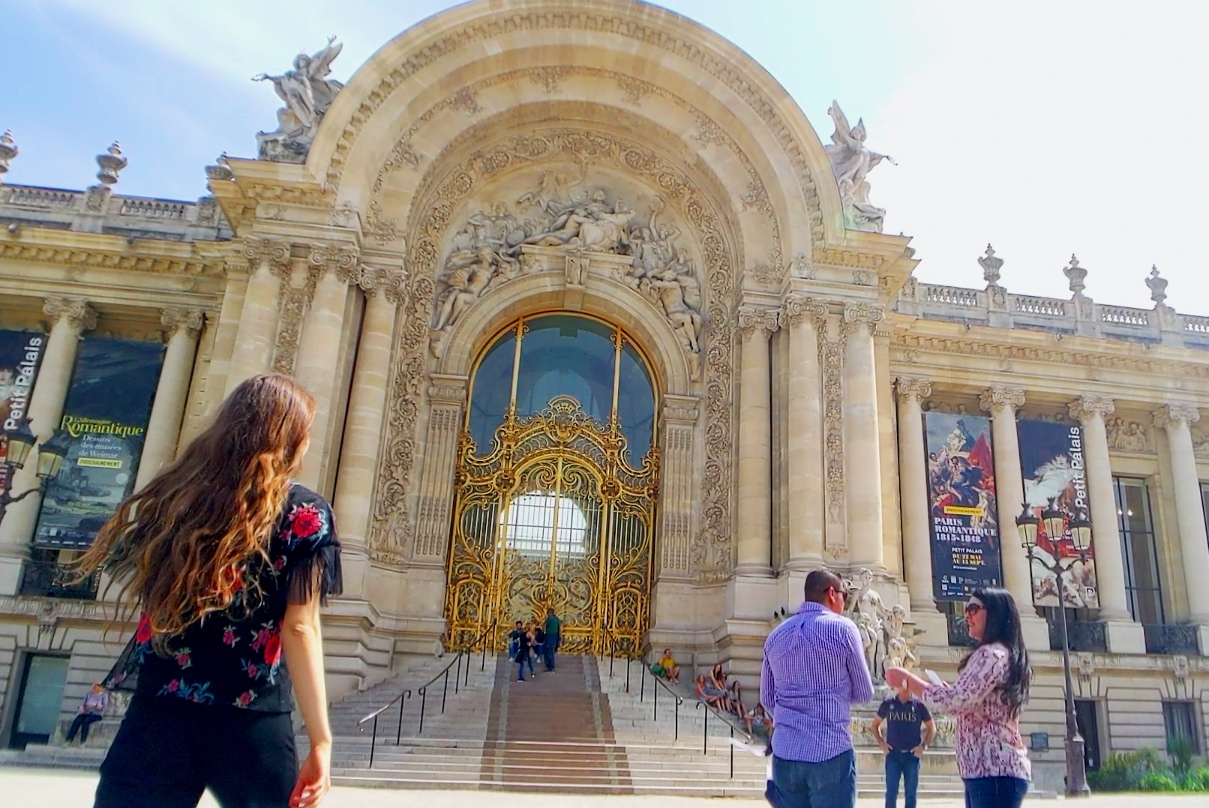 From there I took metro down to two beautiful palaces, one called Big Palace and another one is Small Palace (with a golden gate). One of such belongs to art gallery and must-see outside to feel French opulence. These two are not far from infamous Arc de Triumph and Champs des Ellessey; while there I advice to check out 6 storeys Louis Vuitton store, even just for a quick walk.
The electric scooter was handy to get to another place on my list - Plais Royale. Electric scooters are provided by many different companies, I used Lime (1 euros to unblock it and 0.25cents per minute). It took me 20 minutes and tons of delightful emotions and breeze of fresh air to get close to Louvre. Plais Royale is where establish fashion brands like Dior and Chanel shoot their commercials; it pictures the lavish park with rectangular trees and a square with stripped columns on the water. The access is free.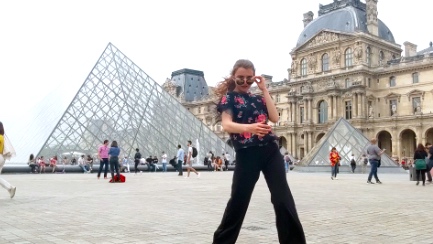 Louvre Museum is just 10 minutes walk from there. If you wish visit inside of the Louvre, get tickets in advance since the queue will be long! Make sure to keep the map of the museum handy because it can take up to 100 days to look at each object in Louvre! Thats one big museum! Be advised, Mona Lisa painting is small and surrounded by many people, so if you arrive earlier and wait for the photo opportunity - you MIGHT be able to get a decent shot.
The next destination is Notre Dame de Paris. After the recent fire, the access to the cathedral was blocked and surrounded by the police so it will be hard to see it close. However, I managed to see it from various bridges. I expected the damage to be more severe especially when the renovations costs boosts up to billions. The main two towers were untouched, but the spire and half of the roof is gone. The sides of the cathedral are solid with black marks from the smoke. As on 23 April 2019, the renovation construction wasn't started yet.
And… meet the sunset near Effiel Tower in Champs de Mars. The colours are vibrant and make the tower glowing! You can also bring your picnic there. At the dark, the tower starts to twinkle and do so every hour until 1am. The best pictures can be taken from Jardins Trocadero with a square full of musicians and crepes. Don't miss it!
These little guide will already take at least 6-7 hours of your time, if you would still have energy and time, I would definitely have these places on my list:
The Centre Pompidou - the art exhibition of Salvador Dali will make it worth. (advanced ticket is a must)

Versailles is a day trip, its one hour away from Paris